All of the good,
none of the bad
We all love a nice slice of bread, or cake, or pizza, or, well you get the idea. Flour is delicious but we always feel a touch guilty after indulging don't we? Well, guilt no longer because not only are our blends gluten and additive-free, they're also packed with nutritionally dense superfood goodness. See how we stack up against the others:
Dusting
the competition.
NET
CARBS
FIBRE
POTASSIUM
(GOOD!)
SODIUM
(BAD!)
GLUTEN-
FREE
ALLERGEN-
FREE
XANTHAN-
FREE
The Good Flour Co.
All Purpose GF Flour
65g
17g
350g
15g
Robin Hood
Gluten-Free Flour
84g
0g
114g
20g
Bob's Red Mill
Gluten-Free Flour
78.3g
2.7g
150g
27g
White Wheat Flour
73g
3g
100g
0g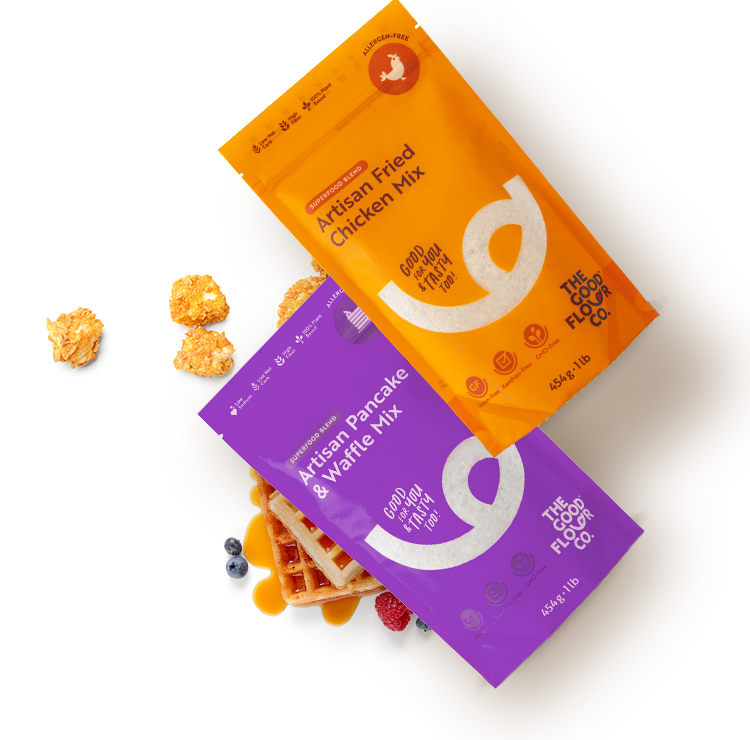 So what's our secret?
Well, skipping the wheat for starters (that was easy). Then carefully selecting a range of high-quality superfood grains (all gluten-free of course) to give us exactly the results we were after. We keep the fillers and additives out and use the power of whole foods to give us the taste and texture we desire. It almost seems too simple, doesn't it? Of course, having a pair of crazy talented chefs on hand helps too ;)
Shop Now
The best product OUT on the market
As a restaurateur, I constantly look for new and improved products for our recipes. Our restaurants have used just about everyThe Good Flour Co. product and have always found them to outperform competitors (even non gluten-free options). In my opinion this is the best product out on the market."
Chef Angus
The flour really gives incredible results
There are so many gluten-free flours on the market but not ones that are created from simple ingredients and without unwanted binders. The Good Flour Co. flour really gives incredible results."
Chef Watanabe